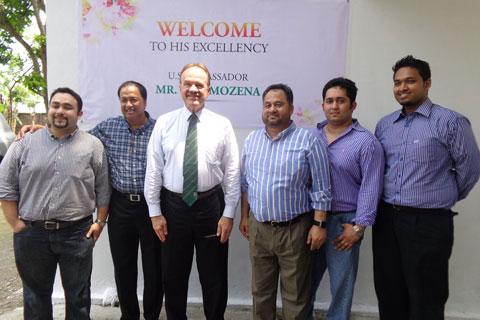 His Excellency Ambassador Mr. Dan Mozena visited Al-Haj Cold storage (A Concern of Al Haj Group) in Ishwardi on 7th April 2014. During his visit he showed his interest in the Agro based activities in Bangladesh and wanted to see how Bangladeshi farmers are storing Potatoes and various other perishable products in the Cold Storages.
"He is a true friend to Bangladesh, encouraging more Agro based activities and believes in the energetic young generation of the country. He showed a lot of respect for our farmers and encouraged us to work with them even more." said Mr. Khaled Ahmed.
He met with the Managing Director Mr. Abdul Ali, Director Khaled Ahmed and other Directors of Al Haj Group.
Mr. Abdul Ali said "It was an honor to receive His Excellency to our site and we were very happy to show our work to him. We convey our best wishes to his Excellency"